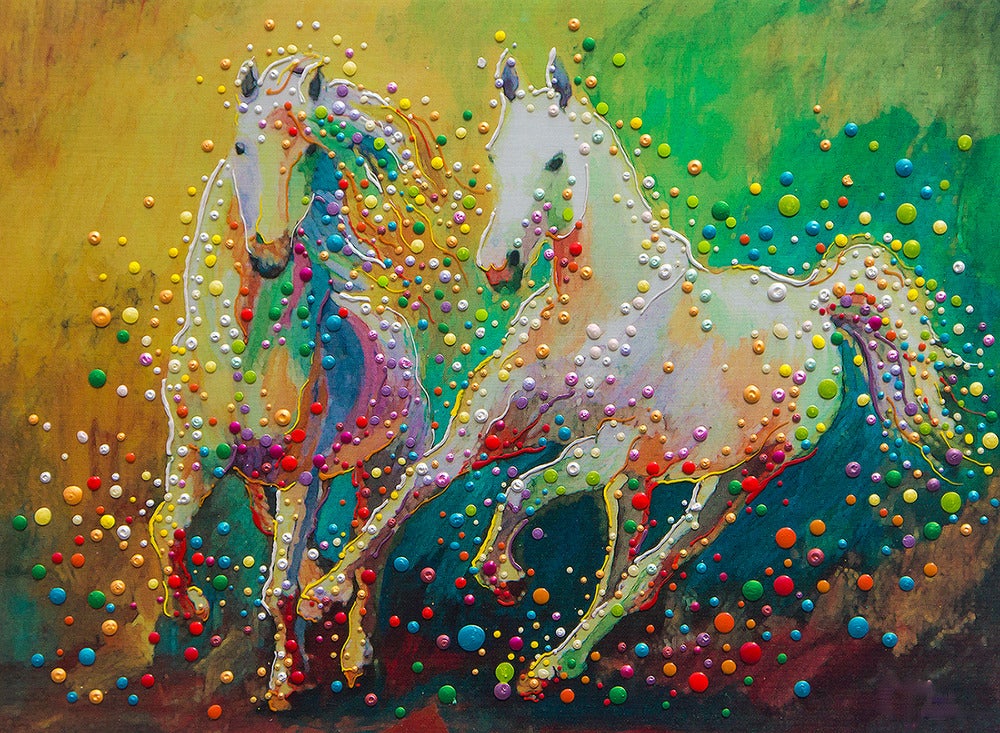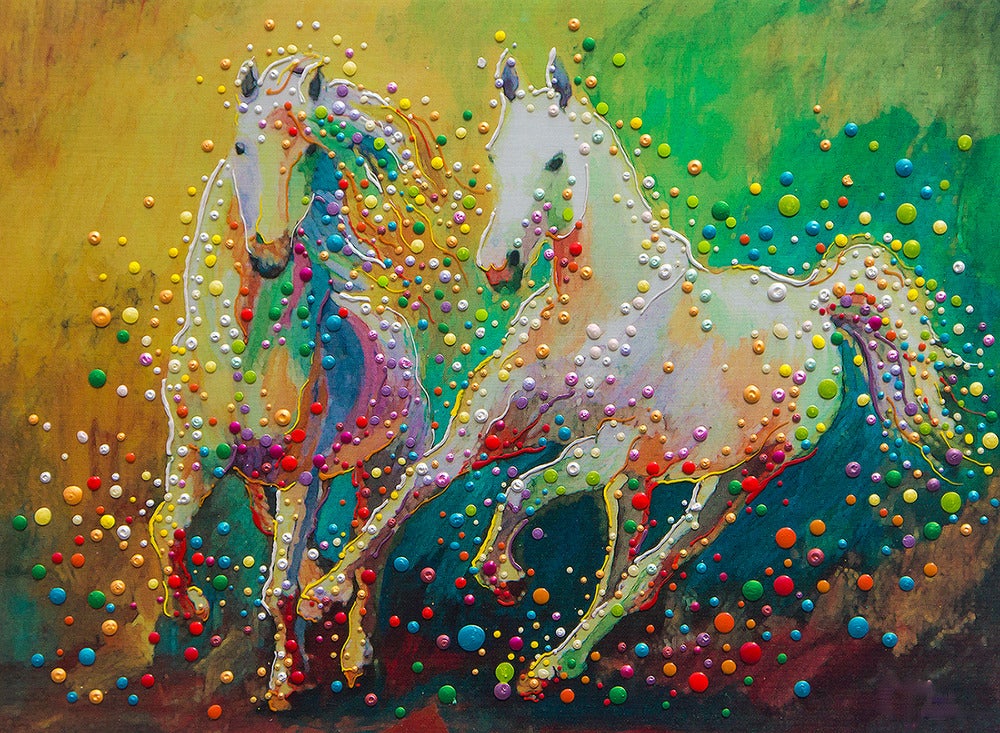 Helios - A Vision Of Light
$58.00
In Greek mythology, Helios was the god of light and the sun whose white steeds pulled his chariot across the sky. The appearance of white horses in dreams and visions is considered more than just incredibly good luck. It represents that you are in the favor of the divine.
From The Artist
The image of two white horses is packed with archetypal symbolism. If you think about it, this imagery really affects you on a subconscious level as it has humans for millennia.
Really, the appearance of two white horses like these represents "big medicine", purity and divinity.
I named this painting "Helios" as the personification of light and all the things that means to so many cultures.
Placing It In Your Home
This image is meant to bring light to a home. Hang it in a place that you walk by often to give you a constant reminder of the divine energy that exists within you.
Available Gicleee Prints>/b>
We are offering top quality giclee prints of "Helios – A Vision Of Light" a powerful metaphysical painting by world renowned "Energy Artist Julia." Just click "Add To Cart" above.
These are not posters but instead are the same archival quality prints collected by museums. They are printed using special inks and paper so they will remain colorful and vibrant for over 100 years. Each is hand-signed by Energy Artist Julia
About The Artist
A prodigy artist who started art school and began taking graduate level classes at the age of 16, Julia Watkins is best known as the founder of the Energism Art Movement.
This is a style of art and concept where artists create art designed to help one connect to positive metaphysical energy and achieve higher levels of conscoiousness through art. Her paintings are in the collections of Deepak Chopra, Carnegie Mellon and Children's hospital. For more information on Julia Watkins visit her website at http://www.platris.com or visit her on facebook and see what others have to say at: https://www.facebook.com/pages/Energy-Artist-Julia/153285945646
Please Note: DUE TO LARGE DEMAND FOR THESE ITEMS PLEASE ALLOW TWO WEEKS FOR YOUR ORDER TO SHIP.
This page, image and text © Copyright 2012, Julia Watkins
All Rights Reserved. May not be reproduced, copied or otherwise used without written permission. Larger prints are custom order and are not returnable.